Skip Navigation
Website Accessibility
Fall Open dates:

The barn will be open
Nov 3 & 4
Friday and Saturday
9:30 - 4:00

Reardan, WA


Class with Australian Designer, Gail Pan, of Gail Pan Designs
Sopwell Ladies Sewing Society
Saturday November 4, 2023
9:30 - 3:30
Reardan Community Hall Reardan, WA

Class is now full- thank you!
Please contact us to get on the wait list.
WELCOME TO MY SHOP!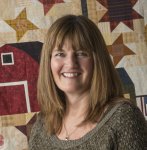 ONE S1STER is home to whimsical quilt patterns designed by Janet Rae Nesbitt that inspire your creative spirit with an eclectic mix of colors, prints, and plaids. Her trademark "crazy" piecing technique (stack, cut, shuffle, and stitch it all together again!) originally created for Buggy Barn, promotes stitching success using an easy, forgiving method that quilters of all skill levels can master. She has always been an avid scrap quilter with a passion for mixing prints and plaids that incorporate a unique sense of color which she shares with you through her fabric designs for Henry Glass where she has been designing since 2002.
She is an online only retailer and wholesaler for her full line of unique quilt patterns and books, offering friendly service and prompt shipping. Around here, Janet is always coming up with fun new designs that are guaranteed to put a smile on your face, so check back often to see what's available!